April 18, 2023 – Legal 500 EMEA 2023 Guide: Vivien & Associés is ranked in four specialties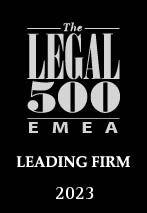 Our firm has once again been distinguished in the Legal 500 EMEA 2023 ranking in four categories:
Dispute resolution : Commercial litigation
Insolvency
Mergers and acquisitions
Tax
We would like to thank our clients for their trust, as well as for their recommendations which, year after year, underline the quality of the work of our partners and their teams. Here are some extracts from our clients' testimonials:
Dispute Resolution: Commercial Litigation
"Availability; quality of answers; clarity of billing".
Insolvency
"Important work capacity and very fine legal analysis.
"Laurent Assaya is an excellent restructuring attorney who understands the law and the courts in theory and practice. He is very helpful on your side when you need to be flexible."
"Laurent Assaya is a very skilled practitioner with a good overview of the business.
"The team understands problems quickly and is able to provide appropriate solutions in a timely manner.
"Laurent Assaya demonstrates great analytical skills and provides relevant and effective responses.
Mergers and acquisitions
"We appreciate the exceptional availability of our contacts, including Judith Fargeot. We also appreciate the fact that the people mentioned work very well as a team. The understanding between the people of Cabinet Vivien is remarkable. It is very helpful and rewarding for clients."
"Everyone is excellent in their field and provides quality coordination with their colleagues. Not only are the partners very available but so are the people who work with them. There is a real team spirit at this firm. There is also a very high level of competence from each of the partners and a strong commitment to long-term, specific client support."
Tax
"A spectacularly responsive, competent and impressive firm. We had a particularly complicated and extremely time sensitive transaction involving real estate and offshore entities. The team led by Marine Pelletier-Capes was professional and, against all odds, was able to come up with more than one viable option to ensure the transaction was finalized in a very tight time frame.
"Marine Pelletier-Capes brings calm and order to what could have been a very chaotic transaction. The team stands out for its pragmatic approach, its in-depth knowledge of the French tax world (particularly with respect to offshore trust structures) and its ability to achieve the impossible."
"Availability, expertise, clear answers. Very good internal communication with the corporate and restructuring department of the firm. Very good anticipation".